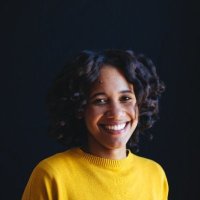 Che Grayson is a Brooklyn based filmmaker and comic book creator from Long Island, New York. She grew up with her mothers, little brother and two dogs, Trinity and Neo; spending most of her time watching black-and-white films and 80s horror flicks. She went to Tufts University, receiving her Bachelors in English Literature and Media Studies. While at Tufts, her documentary photography work in places that include Vietnam, Arizona and the Pine Ridge Reservation sparked her passion for storytelling.
As an MFA thesis student at New York University's graduate film program, Che has written, directed and produced several short films, and studied under the mentorship of Spike Lee and Kasi Lemmons.
Che's love of superheroes inspired her to create and self-publish her own comic book series, Rigamo, about a young Black girl who discovers that her tears bring people back to life. She is also the creator of an animated series, Scatter Brains, a psychedelic space odyssey, currently in development. Che Grayson is a 2016 TED resident and is currently working as a video producer for Bon Appetit.
When she's not writing, filming or working you will likely find her eating a cupcake with her nose stuck in an Octavia Butler novel.